Our shorts nights are how we started back in 2007 and are still the core of what we do.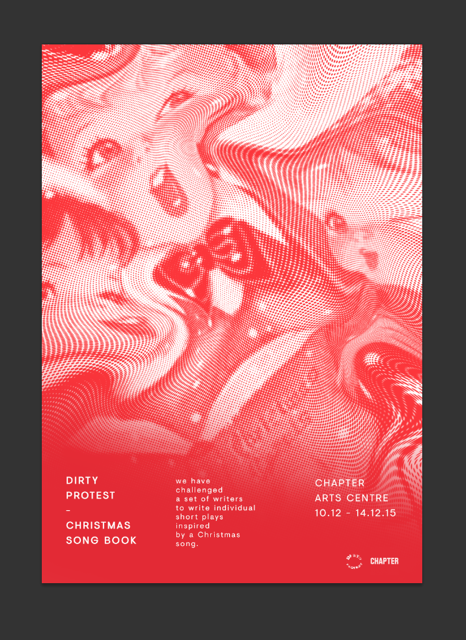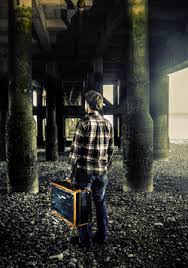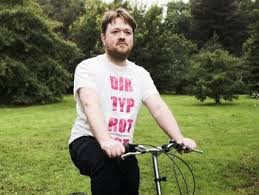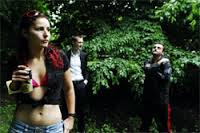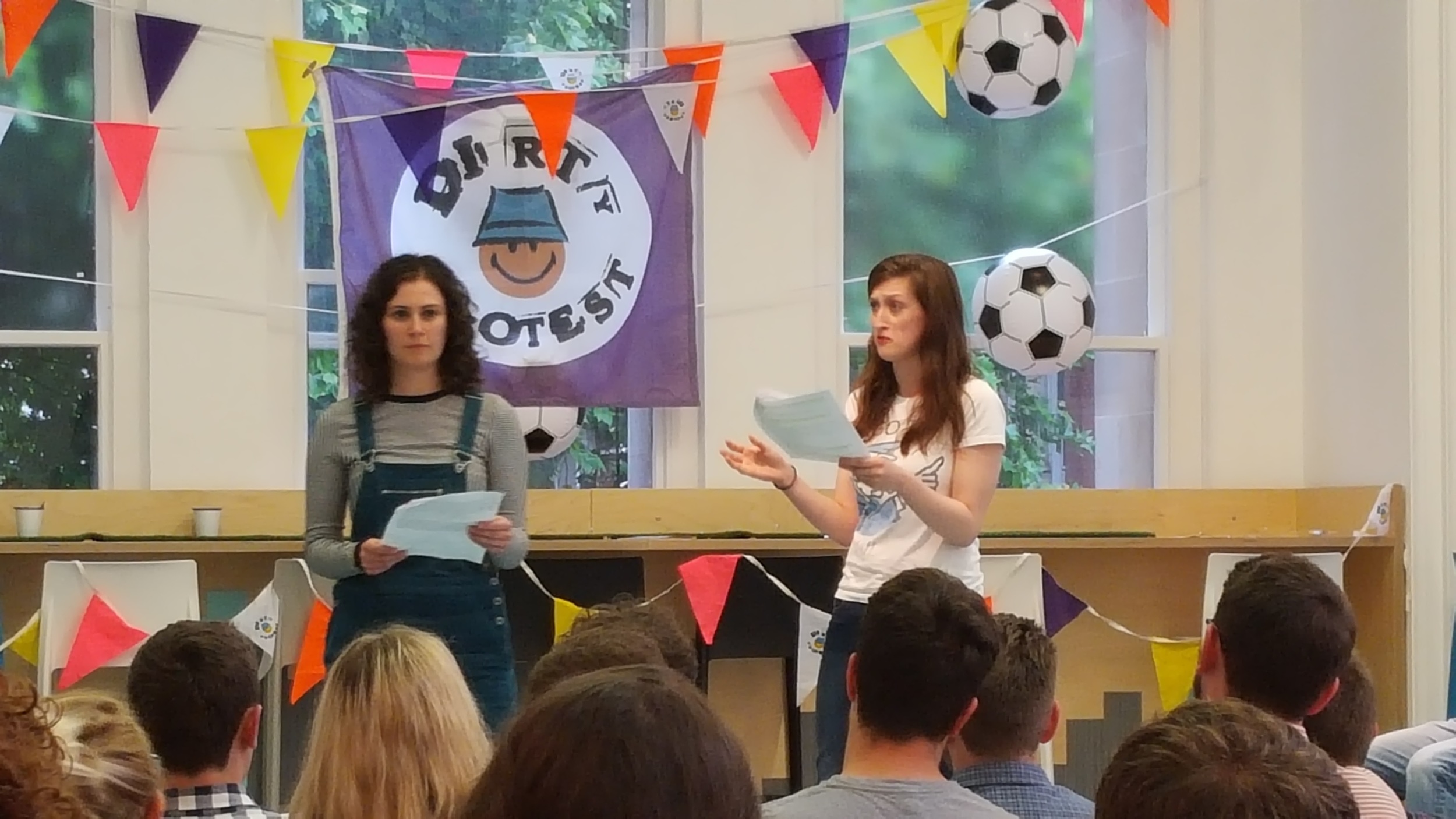 DIRTY PROTEST PRESENTS...
on the brink
If you've never been to a Dirty Protest night before, or you've just forgotten, here's the drill: take a pile of talented writers, one theme and a tight deadline and ask each to pen a short play. All plays are performed by brilliant actors in a night of rapid-fire drama. Add to the mix plenty of booze and good company and you have the recipe for a great night out.
New plays by these amazing Gwent-based writers: Matthew David Scott, Sian Owen, Justin Cliffe, Gary Raymond, Remy Beasley, Connor Allen (cherry popper).
The Pen & Wig, Newport, 17 August 2016.
Little Man Coffee Co, Cardiff, 18 August 2016.
DIRTY PROTEST PRESENTS...
PROTEST FUDUR
EISTEDDFOD 2016
Following a successful Welsh language Dirty Protest at Tafwyl, Cardiff's Welsh language cultural festival, Dirty Protest were invited to The National Eisteddfod in Monmouthshire!
Writers:
Llyr Titus, Wyn Mason, Sharon Morgan, Miriam Elin Jones
Tuesday 2 August 2016
Yn dilyn Protest Fudur llwyddiannus yng Ngwyl Tafwyl mae Dirty Protest wedi cael gwahaoddiad i fynd draw i Gwt Drama Eisteddfod Genedlaethol Sir Fynwy a'r Cyffiniau. Y tro cyntaf i ni ymddangos yn y 'Steddfod!
Dramodydd:
Llyr Titus, Wyn Mason, Sharon Morgan, Miriam Elin Jones
Dydd Mawrth 2 Awst
DIRTY PROTEST PRESENTS...
MEWN TA MAS?
One night. One location. One provocative theme – In or out?
Six new short playful plays.This is the fifth time for the Dirty Protest gang to arrange a Welsh evening as part of Tafwyl and again this year there will be plays by five exciting playwrights as well as a playwright popping their cherry and writing for the first time!
Chwe drama fer chwareus newydd / Our writers: Sharon Morgan, Bryn Fon, Llyr Titus, Wyn Mason, Miriam Elin Jones, Amy Arkle Jones (cherrypopper/yn popio'i cherios)
Un noson. Un lleoliad. Un thema gogleisiol – Mewn ta mas?
Chwe drama fer chwareus newydd. Dyma'r pumed tro i griw Dirty Protest drefnu noson Gymraeg fel rhan o Tafwyl ac eleni eto bydd dramâu gan bump dramodydd cyffrous ac un dramodydd yn popio'i geirios ac yn ysgrifennu am y tro cyntaf!
Yr Hen Lyfrgell, Yr Ais | The Old Library, The Hayes, Cardiff,
Nos Sul Mehefin 26 / Sunday 26 June 2016, 20:00
Abandon ye your Christmas parties, overpriced set menus and awkward chit chat with the boss.

For our 2015 Christmas extravaganza, we asked 4 writers to create a sleigh-full of new slightly longer plays inspired by your favourite Christmas musical hits. With musical accompaniment, plenty of chances to join in plus mulled wine and post play partying this was the bash of the season.

Our 4 writers were: Sam Bees, Lara Catrin, Benjamin Partridge, Nicola Reynolds
dirty PROTEST PRESENTS...
christmas songbook
We also lead an open call out for anyone who wanted to send us a 30-second flash play for the night using inspiration from Christmas songs.
We put on plays by Chantel Mathias, Ross Southard, Owen Thomas, Laura Cotton, Connor Allen, Gareth Smith, Caroline Stockford, Geraint Cardy, Tim Collins, Terry Victor, Shane Anderson, Sam Lane, Ffion Jones, Matthew Ingram, Ness Owen and Michael Leitch.

Chapter, Cardiff, 16 - 19 December, 2015, 8pm
Dirty protest presents...
taxi
Swansea and Cardiff
7 brand new short plays based on the photography of Mike Harvey by 7 of Swansea's most exciting theatrical voices.
For this event, we collaborated with Swansea-based company, Critical Ambition and brought Dirty Protest's brand of raw, unapologetic work to Swansea for the first time.
Our writers were Helen Griffin, Simon Harris, Matthew Bulgo, Tracy Harris, Michael Waters, Miranda Roszkowski, Robert Surman.
Perfomances - 9 Sept 2015 - No Sign Wine Bar, Swansea and 10 Sept 2015 - Little Man Coffee Co., Cardiff.
dirty protest presents...
The valleys
No exploitation, no racism, no manipulation, no MTV. Just real Valleys talent.

New plays in response to MTV's reality TV show, The Valleys from: Patrick Jones, Carmen Stephens, Sam Bees, Alun Saunders, Tim Price, Kelsey Richards, Rachel Trezise (cherry popper)
Our actors: Berwyn Pearce, Michael Humphreys, Gwawr Loader, Michelle Mcternan

Our directors: Sara Lloyd, Julia Wyndham

Thursday October 25, 2012. 7.30 and 9pm
The performance was at the Bunkhouse, Cardiff
DIRTY PROTEST PRESENTS...
may day
Debi Maclean was our guest curator, picking the writers and the theme.

Our seven writers, that's six established writers and one newcomer (the Cherrypopper) were all given the theme of May Day. They interpreted the theme as they saw fit but they had to stick to a few rules
The play should be no shorter than 3 minutes and no longer than 10, the plays have to be written in four weeks and the cast is a maximum of two females and one male. Besides that it is up to them what they wanted to write

The writers were: D. C. Jackson, Keiron Self, Ceri Elen, Jams Thomas, Lowri Owen (Cherrypopper), Tudur Owen, Daniel Glyn

The performance was at the Bunkhouse on Thursday May 10, 2012
dirty protest presents...
artes mundi
We have worked with the international arts prize for the last few years, presenting new plays that respond to the art works displayed as part of the biennial international exhibition.
Performances happened in the National Museum Contemporary Art Galleries in Cardiff, January 2013, and 2015
dirty protest presents...
protest fudur
Protest Fudur are our Welsh language shorts nights. We performed our first Protest Fudur in 2008 and have been creating them ever since.
Tafwyl is the annual festival established by Menter Caerdydd to celebrate the use of Welsh in Cardiff - We produce new plays with Tafwyl every year, to celebrate Welsh language theatre writing.
Trapped - Wales Millennium Centre, Cardiff and Galeri, Caernarfon. Writers: Gareth Potter, Dafydd James, Tudur Owen, Rhian Green, Eilir Pierce, Gwenno Hodgkins (cherry popper)
A bydd cerddoriaeth gan Dyl Mei - Short plays and extra curricular nonsense by Tudur Owen, Fflur Medi Owen, Rhodri Trefor, Emyr 'Himyrs' Roberts, Llŷr Titus, Morfudd Hughes (cherry popper) in response to photographs by Dewi Glyn. After show music by Dyl Mei
dirty protest presents...
a furry protest
In collaboration with music festival Swn, we commissioned 6 new plays taking the songs of the Super Furry Animals as inspiration. Writers: Roger Williams, Brad Birch, Neil Bebber, Angharad Blythe, Meredydd Barker and Lisa Jen (Cherry Popper)
October 21, 2010 - Milgi Warehouse, Cardiff
dirty protest presents...
dirty aberystwyth
Responding to the theme "the End of the Line" we collaborated with Aberystwyth Arts Centre
Writers: Meredydd Barker, Caroline Stockford, Rachel McAdam, Branwen Davies, Roger Boyle, Liz Jones, Catrin Fflur Huws and Lucy Gough.